"Visual tools for better way to work" – Training & workshop
ABOUT OUR VISUAL WORKSHOP
Our workshop Incorporates LOG as a methodology: Listening-Organising-Graphic. The LOG pedagogy consists of:
Developing specific listening skill

Learning to select and deselect information

Apply simple visual tools to enhance your presentation / ppt / scribe

Finding conversation patterns and organising your contents in a logical structure, with the help of graphic elements and colours

Handwriting and typography

Learning to draw and raise confidence with simplify drawings.
IS THIS TRAINING FOR YOU?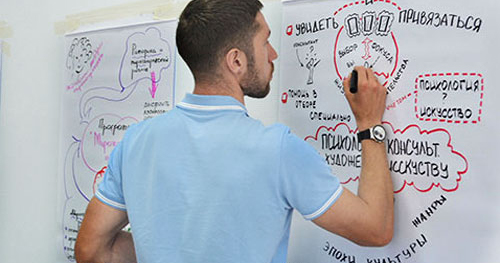 You are facilitators or business coach,
and you need an innovative change from your conventional way of working by adding graphic recording skills to your tool kit, and grow your capacity to lead effective facilitation processes.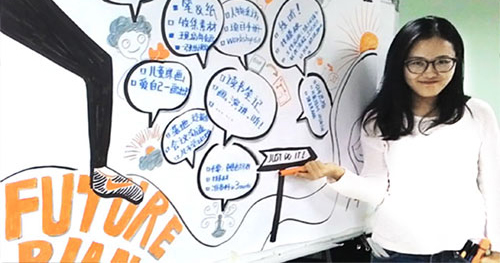 You wish to become a scriber?
Our LOG will guide you with the step-by-step methodology and offer you real life working situation experience.
Q. I'd like to learn graphic recording/ graphic facilitation. Do you hold workshops?
Whether you are an individual looking to hone your skills or a business eager to hold corporate training, our workshops are right for you. Look out for our next workshop here.
Q. How long does it take for one to learn to scribe?
It does not take long to learn the technical part of scribing. We can self-learn to be a scriber within a month or two. The quality in our work comes from our life experiences, knowledge, worldview, language skills etc. It's a life-long learning process.
Q. I don't draw well. Can I scribe?
In the market, not all (but most) scribers draw. A scribe with beautiful drawings may capture more attention than a plain one. But a good scribe is defined by his/her capability to accelerate a group working process, If it is also beautifully drawn, that will be a bonus.
Q. How do you define good graphic recording?
The soul of a good scribe comes from good listening skills, and the capturing process is about effective drawing and writing, both equally important. Scriber's capture content does not produce art. It is not about drawing beautiful graphics but using graphics intelligently to turn "audio content" into images that "speaks a thousand words".
Q. What languages in the training conducted?
We can provide the training in English and Mandarin.
L'Oreal Shanghai 1 day training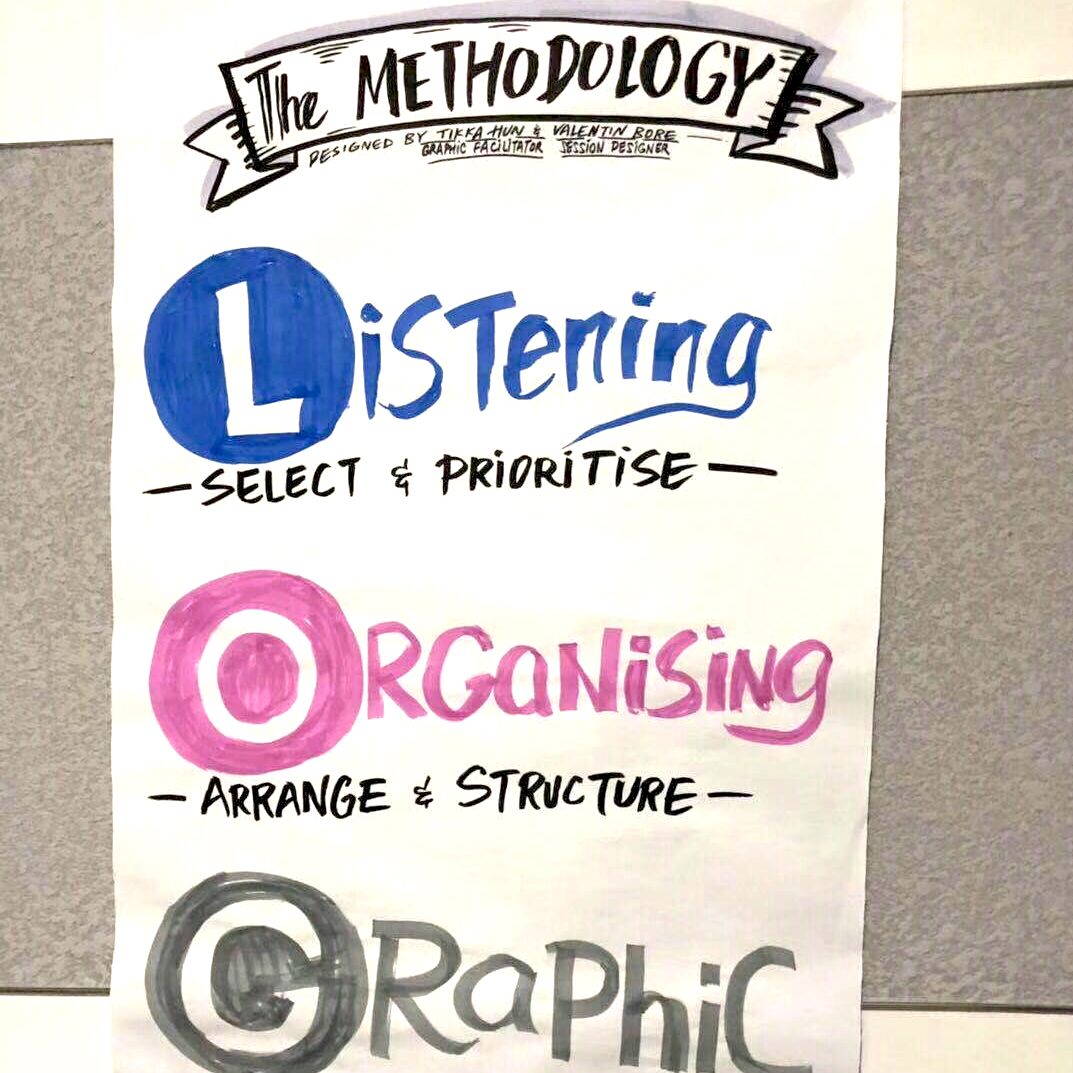 Teamacting Consulting Guang Zhou
We have made a good choice to invite TAK-TIK to provide the graphic recording training. Tikka is a very professional and effective trainer, and she has a good preparation for the 2 days' training and designed a lot of exercises to consolidate our learnings. Our team has learned a lot of basic graphic recording elements which provide us added value and allow us to apply the skills to the job.
– Wendy Fu –  Human Resources manager of Teamacting Management Consulting, Guangzhou China

Our company had arranged TAK-TIK to run series oftrainings in Russia. We are much looking forward to do it again. We are highly satisfied, the feedback from students ranges from "happy" to "ecstatic" and people are asking us when will Tikka be back again.
Tikka is a natural teacher, her trainings are most informative, engaging, with lots of practice. She is very sincere in delivering what she had learned in her extensive practice and her experience is unique, & not available from any written source, also it is useful all around the globe within any culture. She thoroughly prepares her trainings, putting a lot of thought into every detail, and in course of training she manages to pay individual attention to every student, working like a personal coach, looking for individual preferences and talents and helping students to become aware of personal styles and improve them.
Of the people who had been on her trainings in Russia, 3 had founded a graphic facilitation company, 2 had became visual practitioners working on large project, and 1 is hired as a scriber in our team. There are probably many more success stories we don't know about yet.
"Tikka, thank you very much! Your training career is high-rocketing, and it is great that you love what you do"
– Mikhail Rossius –   New Business Director of IMPER Group of Companies Image Personal Consulting Moscow, Russia

I have learnt to organise space, creating simple images and the skill to listen & capture. Handwriting, highlight & capture words have became easier for me now. – Liudmila Dudorova (Head of International Association of Facilitators IAF Russia Chapter)
-Liudmila Dudorov-     Head of IAF, International Association of Facilitators IAF Russia
My most valuable learning is the listening skill, structuring information and the "hunter" strategy. I feel more skilful in linking informations, creating hierarchy and work on the composition of my scribe by leaving space & work with the blank.
– Chueva Liliya –    Co Founder at Wonderfull, Laboratory of Design Thinking
I have learnt how to create hierarchy for my scribe, now I feel more in control about the use of space of my scribe.
-Victoria Bekhterena- Social Media Strategist at International Association of Facilitators Europe MENA
I overcame my fear of drawing.
-Volkova Natalie-
I understood now that the main skill of graphic facilitation is not about drawing but listening, I see the whole process of graphic facilitation and have learnt the methods and ideas of doing it."
– Svetlana Alterman
What can you expect?
Listening skills, that enable you to listen & draw at the same time
Synthesizing skills, to select and prioritize information
How to define the conversation pattern, and put your visual in a logical layout
How to use simple graphic elements, to help arrange & structure your contents
Drawing tips in making concept/metaphor visual
Handwriting, turn your usual hand writing to a nice typography writing
How to build your visual library and your confidence in drawing
By the end of the workshop, you shall be able to accomplish a real time live capturing of a speech into an engaging visual map, in big format, A1/A0
Workshop content
70% practical (with real life working situation exercises)
30% theory (with real life case studies)
Individual feedback session
One-to-one coaching
Group & peer to peer sharing