Q. I want something awesome for my next event. How can you help?
First, we'll talk about how to combine what you need and what we can do. You provide us your presentation notes at least a few days before the event, while we send our materials to the venue. During the event, we will work our magic. You can keep the physical version on site and we'll provide a digital version of the graphic recordings after it is over. Simple!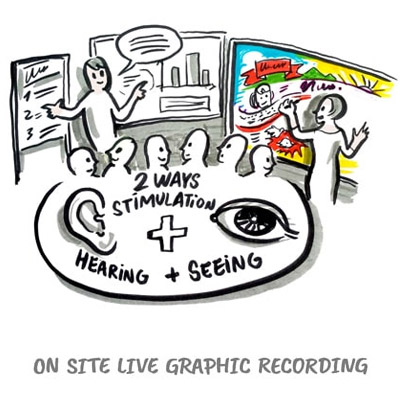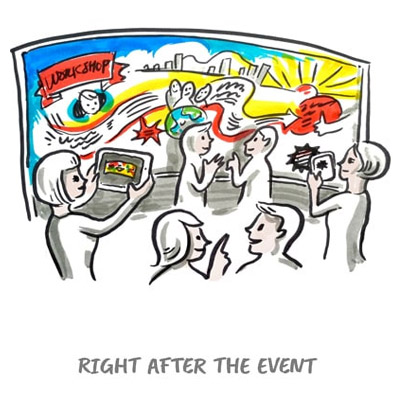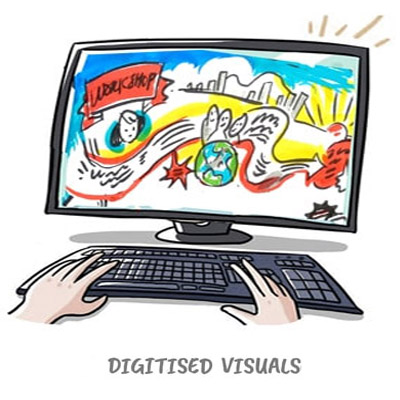 Q. What is graphic recording / graphic facilitation?
Graphic recording / graphic facilitation refers to a 'Live Capture' of complex concepts and words, into a structured synthesis of graphic/sketches and keynotes.
A graphic recording ("scribe") session usually takes place in workshops, conferences, brainstorming sessions, meetings, pitching or training sessions. During the conversation or speech, the scriber will synthesize the speech, find the pattern and make the connection of the content, then turn it into a large-scale, live, drawn work.
Q. How do we Graphic Record?
We work with the process of: Listen + Synthesise + Capture.
During your session whether virtual or on-site, we sit in and listen to your verbal contents while synthesizing and extract the essences and keynotes and map them into a structured visual summary, it can be speeches, discussions, report-outs or meetings, we capture them and turn words into a unique, large-scale graphics, which will be digitized and made into a shareable image for the participants at the end of the session, thus inspiring action and create a memory for the event.
Q. Remote Graphic Recording
During the pandemic, group work has switched to webinars or zoom. We continue to service online sessions by offering digital remote graphic recording.
To start, we will join your technical rehearsal (if it is planned) to decide do we participate,
During the session, we will draw on an iPad simultaneously and we share our screen when queue or we send the finished visual at the end of the session for you to share, we are very fast and are able to provide the visual almost immediately,
We also provide a timelapse video of the visual, which is very helpful to show to the audiences to keep attention focus.
Q. Why do I need graphic recording / graphic facilitation?
1. Better communication
Graphic visualization has been proven to help people process data faster than a meeting report, as it allows them to digest complex ideas better. This is because our brain processes image 60,000 times faster than text does and 90% of the information sent to the brain is visual.
2. Better group engagement
This process facilitates groups to align a common communication direction. It assures transparency, gives equal value for all voices to be heard, and psychologically flattens the hierarchy from bottom up. Once this safer environment is established, engagement and participation will follow, therefore creating better group work results.
3. Better experience
Visuals trigger emotions deeply and unconsciously. We use the visual recording in marking key milestones or celebrating memorable moments of an event.
Q. For who can?
Corporations, trainers, facilitators, educators, startups, non-profits, and government bodies.
At your meetings, conference, discussion, report-out, training, and many more work events which generate verbal contents
Q. Can you work remotely or virtually?
Yes, if you have a meetings/events online and staying focus becomes challenging, virtual live visual facilitation offers the possibility to smoothen the transition to the virtual working environment and close the communication gap, by helping you staying focus and manage our emotions so that we still get the full experience and maintain peak performance in your teams.
Q. Without knowing the speech in advance, how can we manage to capture & draw accurately and live?
A good graphic recorder has general knowledge, worldview, life experiences to help them understand and synthesize subjects quickly.
Mostly it is about being a good listener, able to make the connection of what we hear (emotion or fact). This also involves lots of practice.
Q. How can you scribe at the speed of a speech?
We employ a method called Raw-Scribe, where selective key content is quickly recorded during the speech, then complete the work with elements such as visuals, graphic elements, and color. This allows us to focus on your content and the essence of your speech.
Q. How much lead time do you usually need prior to an engagement/project?
1- For an on-site graphic recording:
Our clients book from 6 months to a few days ahead. Because the deliverable of an on-site graphic recording is our time slot, the earlier you book will increase your chance to have our service available. For the overseas mission, it is advisable to book earlier to allow time for flight booking or visa application.
Q. What kind of materials do you need from us prior to a graphic recording session?
We will need you to communicate the objective of your event and the reason you want to have it graphic recorded, that will help us better direct our synthesis to meet your objective. You can send us the presentations material or brief for our consultation prior to the event, but it is not compulsory, we are used to going to an event without any supporting information (often due to the confidentiality).
Q. Where are you based in?
We have an office in Malaysia and France and team members who base in China. However, we are able to provide our services anywhere in the world. We can travel to where our clients need us.
Q. What languages can you work in?
We can work in English, Chinese, French, and Malay.
Q.How much do I pay for this service?
Graphic recording rate is base on our standard daily rate per scriber, the rate might be adjusted according to your event requirements, like duration, complexity etc.  Please contact us for quotation.