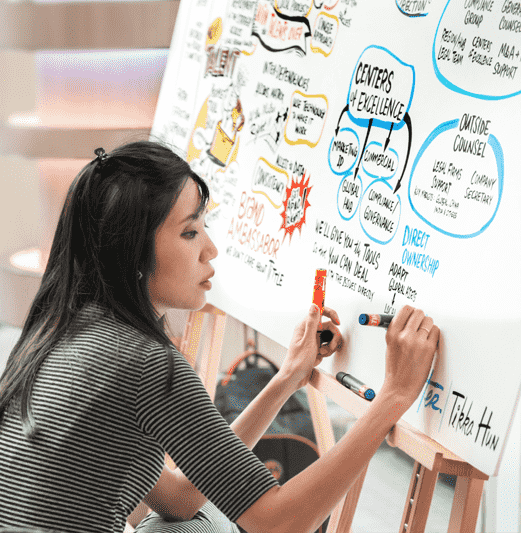 Tikka Hun
Tikka is a strategy-visual consultant & graphic facilitator trainer & designer of LOG (Listening-Organising-Graphic) graphic facilitation workshops; which she is able to conduct fluently in both English and/or Chinese (bilingual). She is the founder of Tak-Tik visual solutions (2003) and runs it to this day.
Graduated with a 1st class BA in Visual Communication from London Middlesex University, her career includes the role of as an award-winning art director at various advertising agencies in Europe for over 10 years. Her awards include the acclaimed D&AD award and The best new blood.
In 2010, she began exploring graphic facilitation based on the MG Taylor Methodology, she experienced the magic of combining visual communication in graphic facilitation. This sparked her passion towards developing her authentic style.
Tikka has close to 20 years of experience, having a body of life experience from travels to over 40 countries. She has worked and lived across Europe and Asia, developing a unique universal style that appeals to all walks of life, relatable to every culture and applicable across all industries. In addition, she is a certified landscape designer from l'ecole de paysagiste of Versailles and she continues to explore her love of nature in the tropics.
She is a fervent advocate of ecofeminism and environmentalism and uses her works to contribute to gender equality and environmental causes through NGOs. She is a volunteer art teacher for refugee kids and orphanages as well as an activist for Greenpeace Malaysia.
And above all, she is a mother, her 4-year-old boy being her inspiration to do her bit in raising a more aware, empathetic, and compassionate next-gen.