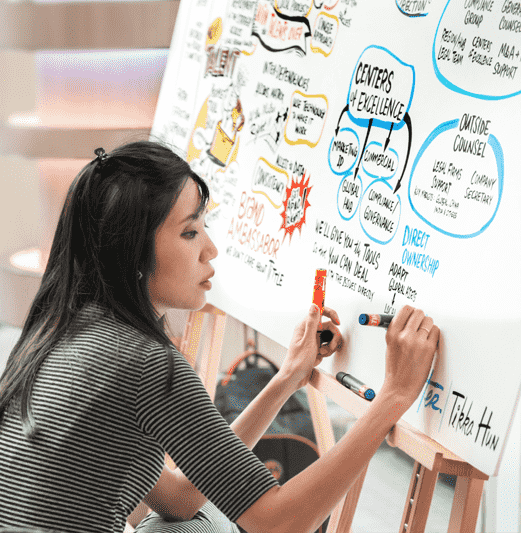 TIKKA HUN – Malaysia
Bilingual (Eng & Cn) graphic facilitator & trainer
Tikka specializes in bilingual English & Chinese scribe and has designed and conducted LOG graphic facilitation workshops in both languages.
Armed with a first degree in Visual Communication from London Middlesex University, she worked as an award-winning art director at various advertising agencies in Europe for over 10 years.
In 2010, she explored graphic facilitation based on MG Taylor Methodology. She saw the magic of combining visual communication in graphic facilitation and started developing her authentic style. While Tikka has traveled to 40+ countries, she has worked and lived in Europe and Asia. She became certified as a landscape designer in France before spending a year of retreat in a jungle village in Borneo with her husband.
14 years later, Tikka returned to her homeland in Kuala Lumpur to bring this expertise to Asia Pacific. She has worked with international consultancy networks (ASE of Cap Gemini, KPMG, Starfish Taylor, Ernst and Young, Architects of Group Genius, Wild is the Games), corporations (LVMH, Bvlgari, Audi, WPP, Huawei, Bacardi, RedBull, L'Oréal, Michelin, HSBC, Rowan, Schlumberger and Zuellig), NGOs (WHO, WWF, CPCS) and conferences (TedxKuala Lumpur and TedxPetalingStreet, Malaysia; TedxWanchai, Hong Kong; B4B China Summit Program, Shanghai China; IMC Innovation Malaysia conference)