FREQUENTLY ASKED QUESTIONS (FAQ)
All about Graphic recording
Q. I want something awesome for my next event. How can you help?
First, we'll talk about how to combine what you need and what we can do. You provide us your presentation notes at least a few days before the event, while we send our materials to the venue. During the event, we will work our magic. You can keep the physical version on site and we'll provide a digital version of the graphic recordings after it is over. Simple!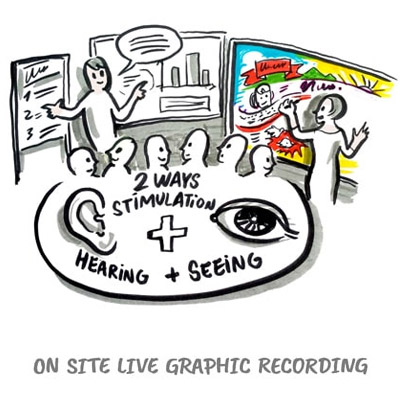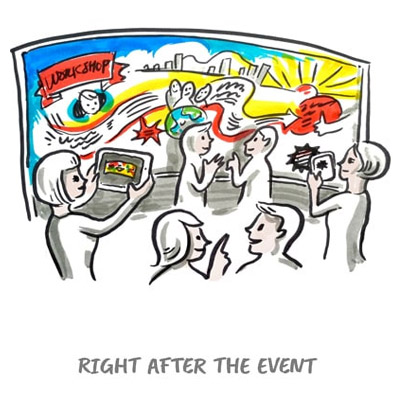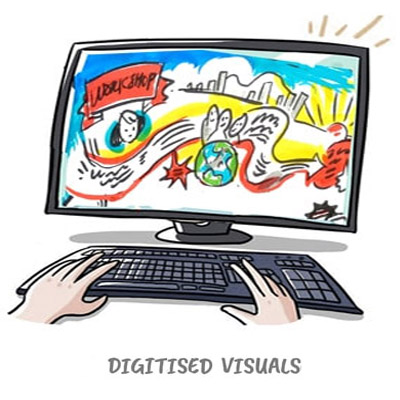 Q. What is graphic recording / graphic facilitation?
Graphic recording / graphic facilitation refers to a 'Live Capture' of complex concepts and words, into a structured synthesis of graphic/sketches and keynotes.
A graphic recording ("scribe") session usually takes place in workshops, conferences, brainstorming sessions, meetings, pitching or training sessions. During the conversation or speech, the scriber will synthesize the speech, find the pattern and make the connection of the content, then turn it into a large-scale, live, drawn work.
Q. Why do I need graphic recording / graphic facilitation?
1. Better communication
Graphic visualization has been proven to help people process data faster than a meeting report, as it allows them to digest complex ideas better. This is because our brain processes image 60,000 times faster than text does and 90% of the information sent to the brain is visual.
2. Better group engagement
This process facilitates groups to align a common communication direction. It assures transparency, gives equal value for all voices to be heard, and psychologically flattens the hierarchy from bottom up. Once this safer environment is established, engagement and participation will follow, therefore creating better group work result.
3. Better experience
Visuals trigger emotions deeply and unconsciously. We use the visual recording in marking key milestones or celebrating memorable moments of an event.
Q. How do you Graphic Record?
We work with the process of: Listen + Synthesise + Capture. During the session, we listen to your speech, while synthesizing the information in order to map the conversation pattern. Then we capture this pattern a unique, large-scale graphics (illustrations and keynotes).
Q. Without knowing the speech in advance, how can we manage to capture & draw accurately and live?
A good graphic recorder has general knowledge, worldview, life experiences to help them understand and synthesis subjects quickly.
Mostly it is about being a good listener, able to make the connection of what we hear (emotion or fact). This also involves lots of practice.
Q. How can you scribe in the speed of a speech?
We employ a method called Raw-Scribe, where selective key content is quickly recorded during the speech, then complete the work with the elements such as visuals, graphic elements, and color. This allows us to focus on your content and the essence of your speech. For more info, refer to http://TAK-TIK.com/EN/
Q. How much lead time do you usually need prior an engagement/project?
1- For an on-site graphic recording:
Our clients book from 6 months to a few days ahead. Because the deliverable of an on-site graphic recording is our time slot, the earlier you book will increase your chance to have our service available. For the overseas mission, it is advisable to book earlier to allow time for flight booking or visa application.
All about Strategy Visualisation
Q. What is Strategy  Visualisation?
Strategy Visualisation transforms complex ideas or processes into simple but rich visuals or corporate graphics. It translates text-based content into visual content for effective communication.
We all love & remember story, much more than list of bullet point, lengthy power point presentation, hence the more effective presentation should be those with a strong simple visual that guide the speaker to tell a story, use image instead of text to visualize ideas, for meeting, presentation, strategy planning or infographic.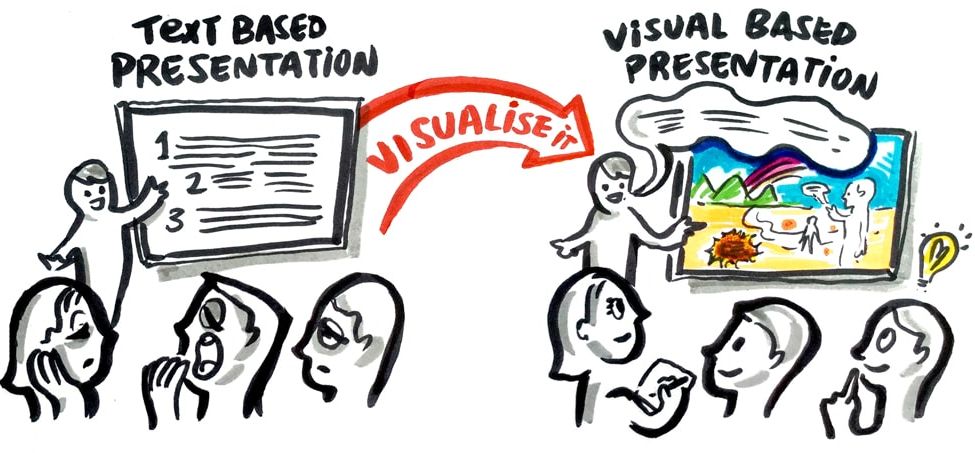 Q. Why do I need Strategy Visualisation?
Strategy Visualisation is like a Visual Storytelling with a visual narrative, allows the audience to not only listen but see the story, with a strong simple visual that uses rich images instead of text, it gives complex strategies a clearer approach; enhance the creative spirit and open up our mind capacity.
Q. How do you do Strategy Visualisation?
The process goes like this: We will start from understanding your objective, by communicating with you and studying your business background.
Together we will distill your contents (can be in the form of text, image, video or verbal communication) to get the essential to be visualised, With those information, we will be able to design a customised visuals that best communicate your idea.
Q. How long time do you need to produce a Strategy Visualisation?
We are able to resent the first draft in a pencil sketch within the next day, you can request for 2 rounds of changes in this stage. Once a final idea sketch is approved, we will proceed on the final drawing (digital or hand-drawn) to the size required, this process will take a maximum of 2 working days (for order below 5 visuals) for us to deliver a final version in digital form (extra day needed for print version). So the quicker we have your feedback, the faster we work.   

Q. I'd like to learn graphic recording/ graphic facilitation. Do you hold workshops?
Whether you are an individual looking to hone your skills or a business eager to hold corporate training, our workshops are right for you. Look out for our next workshop here.
Q. How long does it take for one to learn to scribe?
It does not take long to learn the technical part of scribing. We can self-learn to be a scriber within a month or two. The quality in our work comes from our life experiences, knowledge, world view, language skills etc. It's a life-long learning process.
Q. I don't draw well. Can I scribe?
In the market, not all (but most) scribers draw. A scribe with beautiful drawings may capture more attention than a plain one. But a good scribe is defined by his/her capability to accelerate a group working process, If it is also beautifully drawn, that will be a bonus.
Q. How do you define good graphic recording?
The soul of a good scribe comes from good listening skills, and the capturing process is about effective drawing and writing, both equally important. Scribers capture content, not produce art. It is not about drawing beautiful graphics but using graphics intelligently to turn "audio content" into images that "speaks a thousand words".
All about whiteboard animation
Q. I wish to do a whiteboard animation, how do I start?
We start with a phone call, normally we co-design the video together combining our experience in visualization and your knowledge of your company, to build a narrative, storyboard and the written text which is adaptable for the voice over. 

Q. How much time do you need to make a  whiteboard animation video?
To make a whiteboard animation video we need the script, storyboard, hand-drawn visual, VO and production. According to the materials listed provided by you, eg: if you already have the storyboard drawn or script written or start from scratch, we will be able to quote you a precise rate or estimate the time we need to accomplish a job. For eg. to do a 2 minutes video, from the stage that we have a right written script, it will take roughly 10 days for us to create the storyboard, draw the visual, record the VO and do the post production (animate + synchronize VO)
General
Q. What kinds of services does TAK-TIK have?
TAK-TIK provides visual solutions in:
1. Graphic recording / Graphic facilitation
We draw your verbal contents at conferences, workshop, meetings, brainstorm sessions etc.
2. Strategy Visualisation
We give visual consultation and help you visualize complex business ideas or processes into simple but rich visuals or corporate graphics.
3. Training
We provide training and workshops for those who would like to acquire visual skills to enhance their work. You can hire us for a customized in-house course or you can join our regular public open course in Kuala Lumpur, Shanghai and Beijing
4. Video scribe or action sketch
We animate the content of your business ideas, processes or communication into a hand-drawn video.
Q. What kind of materials do you need from us prior to a graphic recording session?
We will need you to communicate the objective of your event and the reason you want to have it graphic recorded, that will help us better direct our synthesis to meet your objective. You can send us the presentations material or brief for our consultation prior to the event, but it is not compulsory, we are used to going to an event without any supporting information (often due to the confidentiality).
Q. Who can benefit from a graphic recording session?
Corporations, trainers, facilitators, educators, startups, non-profits and government bodies.
Q. How are we different?
Our TAK-TIK's team members have a strong background in the advertising creative field and come from different walks of life before, hence are familiar with the business languages. This differentiates us from other illustrators, as we don't only provide visuals, we provide visual solutions.
Q. Where are you based in?
We have an office in Malaysia and France and team members who base in China. However, we are able to provide our services anywhere in the world. We can travel to where our clients need us.
Q. What languages can you work in?
We can provide materials in English, Chinese, French and Malay.