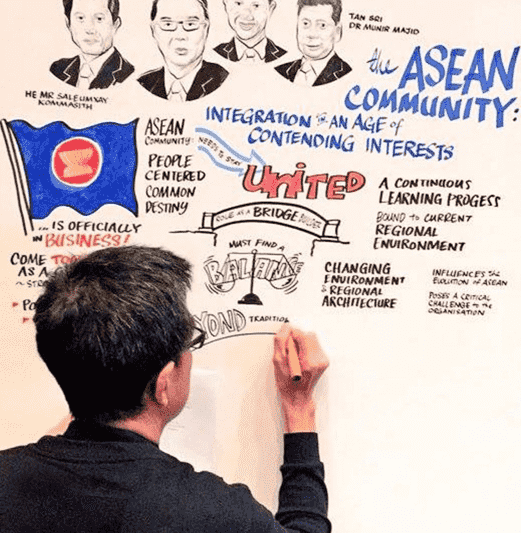 Chan Wai
Graphic recorder & Graphic Designer
Chan Wai began his career in advertising as a visualiser. He created storyboards, packaging design and press ad visuals before computers could do the job. In the advent of the Apple Age, he developed her skills in creative ideation, strategy, art direction and design.
Graphic recording and facilitation came naturally for Chan Wai after working at Saatchi Malaysia, McCanns, Bates and BBDO plus several smaller local agencies. He uses his drawing skills and creative thinking from his ad experience to summarise and illustrate complex ideas in various industries ranging from banking to fintech, education, electronics, circular economy, IT, car, oil & gas, hotel, FMCG brands and peace leadership.
Bai Xian Asia Institute
Bai Xian Asia Institute (BXAI) workshop.
Cross-cultural education is the key to a harmonious world built on mutual understanding, respect, and equality.
Cambridge International Examinations, UK
Graphic Recording for Cambridge International Examinations.
CIE is part of the Cambridge Assessment, a department of the University of Cambridge in UK. CIE prepare school students for life, helping them develop an informed curiosity and a lasting passion for learning.
Annual Peace Practitioners Research Conference
Another meaningful scribe project at the Annual Peace Practitioners Research Conference in Siem Reap, Cambodia.
Organised and hosted by CPCS, (PPRC) aims to enhance the sustainability of peace work in Asia by providing a space and opportunity for peace practitioners, researchers and scholars to reflect on and share successful peacebuilding theory and practice in the region.
Great teamwork with Chanwai!
#‎graphicrecording #‎graphicfacilitation #‎scribe #‎illustration #copic #livedrawing #portrait #peaceforum